The History of JBM Sports
JBM Sports take great pride in providing sterling management services to professional sportspeople. We have represented over 200 professional players. Please see below some of the clients that we have managed over our 20 year history.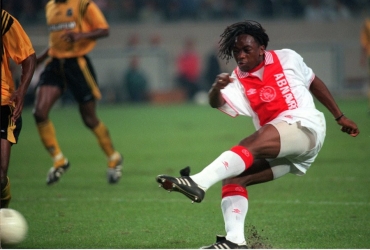 Kiki Musampa
Professional Football Player
The Congolese born, Dutch national football player forged a phenomenal 30 year professional sporting career. Starting in his youth, playing in the Ajax youth team before joining the senior squad in 1994 which led to his selection for the Dutch national Team where he competed in the 1998 FIFA World Cup.
Musampa then went on to play at Malaga and Atletico Madrid; Following this he moved to England to play for the Premier league team Manchester City in which he helped them to qualify for the UEFA Cup.
After his time playing in the Premier League, Musampa had a short stint at Turkish club Trabzonspor then moved onto FC Seoul in South Korea. In 2009 Musampa returned to The Netherlands and retired his professional football career after training with French team Metz. Musampa is widely respected in the world of football for his achievements both on and off the pitch!
The first client for JBM Sports! We negotiated Musampa's transfer from Ajax to Bordeaux 1997
Professional Clubs Include
AFC Ajax, Bordeaux, Malaga CF, Atlético Madrid, Manchester City and Trabzon Spor. 28 caps representing the Netherlands at under-20 and under-21 levels. 
Mahamadou Diarra
Professional Football Player
The Malian footballer who served as the captain for the Mali national team, played as a midfielder for many high-level teams around the world. Having started his career at the tender age of 17, Diarra had his first professional contract with Dutch club Vitesse. Following this he went on to play at Lyon in which he helped the team to win Ligue 1 for two consecutive seasons.
Diarra then went onto play at Real Madrid for a five year term in which he helped the team to win a total of 10 cups in the duration of his time at the club. He then went on to spend a year playing for Monaco before moving to London to the play in the Premier league, for Fulham FC for two years. Diarra currently plays for the Mali national football team. 
Diarra's discipline, talent and determination have helped him to achieve a long and successful career. 
We negotiated Diarra's high value transfer from Vitesse to Lyon 2002
Professional Clubs Include
Vitesse, Lyon, Real Madrid, Monaco and Fulham
Johan Elmander
Professional Football Player
The Swedish native started his career playing in Sweden at top club Djugården, as a Striker for the team he helped them to win the Allsvenskan Championship and Swedish Cup. Elmander went on to play for French club Toulouse and was nominated for player of the year. During his time with Toulouse, they went on to qualify for the UEFA Champions League. 
Elmander then moved to England to play in the Premier League for Bolton Wanderers in 2008 for a three-year stay. Following this, he moved to Turkey to play for top Turkish club Galatasaray for another three-year contract in which he helped the team be crowned the league champions. 
Elmander retired from his professional career in 2017 after a tremendous 20 year sporting career!
We negotiated Elmander's transfer from Toulouse to Bolton Wanderers – Highest value transfer of Bolton Wanderers to date! 2008
Professional Clubs Include
Toulouse, Bolton Wanderers, Galastasaray, Djugården, Norwich City, Brøndby IF, Örgryte IS
The Late, Cheick Tiote
Professional Football Player
Cheick had a prominent sporting career playing in top football leagues throughout the world, featuring in the Europa League and the Champions League. The Ivorian native, made his professional debut in Belgium in 2005, playing for Anderlecht. He later went on to join Dutch club FC Twente and helped the team win the Eredivisie in his second season. 
Cheick then moved to England to play in the Premier League for Newcastle United. He spent 6 seasons playing at this club and played in over 156 games. He also played for the Ivory Coast national team in which is played in two FIFA World Cups and the 2013 Africa Cup of Nations. Cheick was a talented, passionate and charismatic player who we had the honour of representing before his tragic passing in China in 2017, where Cheick passed away due to a cardiac arrest. Chieck is dearly missed by the JBM Sports team. 
We negotiated Tiote's transfer from Twente to Premiership Club, Newcastle United 2010
Professional Clubs Include
Twente, Newcastle United and Beijing Enterprises
Ibrahim Sangare
Professional Football Player
Sangare started his career in Ivory Coast as a youth playing for AS Denguélé, his talents then got him a professional contract at top French club Toulouse at the age of 18. 
Sangare joined Toulouse FC in 2016 as a midfielder. He is a very high-level player tipped for huge success. Sangare's career continues to go from strength to strength!
We managed the relocation of Sangare from Ivory Coast to France and negotiated his first professional contract at Toulouse 2016
Professional Clubs Include
Simon Deli
Professional Football Player
The Ivorian native started his professional international football career playing in the highest league in the Czech Republic. Deli's first club was Sparta Prague in 2012 before he moved onto Ceske Budejovice. Then he played at Slavia Prague for 4 years in which he led them to win the 2016-2017 First League Title. 
Deli signed his current contract with Belgian team Club Brugge in 2019. Deli's skills have helped him to build a fantastic sporting career which is still evolving!
We negotiated Deli's transfer from Slavia to Brugges 2019
Professional Clubs Include
Sparta Prague, Slavia Prague, Ceske Budejovice and Club Brugge